From Human Rights Watch
New York, February 28, 2002
Russian forces in Chechnya arbitrarily detain, torture, and kill civilians in a climate of lawlessness, Human Rights Watch said today. In a 51-page report, Human Rights Watch details a series of military sweep operations during which it found hundreds of men were arbitrarily detained, dozens tortured, and at least six extrajudicially executed.
Russian forces in Chechnya arbitrarily detain, torture, and kill civilians in a climate of lawlessness, Human Rights Watch said today. In a 51-page report, Human Rights Watch details a series of military sweep operations during which it found hundreds of men were arbitrarily detained, dozens tortured, and at least six extrajudicially executed.
"For a year now Russian authorities have been claiming that the situation in Chechnya is returning to normal," said Elizabeth Andersen, executive director of Human Rights Watch's Europe and Central Asia division. "But in fact civilians face a daily threat of being arbitrarily detained, tortured, or just 'disappearing' in custody. That's a far cry from 'normal.'"
The report, titled Swept Under: Torture, Forced Disappearances, and Extrajudicial Killings During Sweep Operations in Chechnya, documents abuses during sweep operations that took place in June and July 2001 in the villages Alkhan-Kala, Sernovodsk, and Assinovskaia. In a sweep operation, Russian forces, responding to Chechen rebel hostilities, typically seal off a village and run identity checks and searches of residents. The operations in mid-2001 took place against a backdrop of Russian government pledges to withdraw troops and return internally displaced persons safely to their homes, even as clashes continued between Russian forces and Chechen rebels. Since July 2001, Russian forces have conducted dozens more sweep operations throughout Chechnya, committing many of the same abuses described in the report.
Among the cases detailed is that of "Magomed Asanukaev,"(not the man's true name) whom Russian forces detained in the Sernovodsk sweep on July 2. They threw him in a truck with no explanation, held him in a concrete pit, and tortured him with electric shocks, attempting to coerce information about rebel fighters. He was later released, but others were not. Zelimkhan Umkhanov and Apti Isigov "disappeared" after Russian forces took them into custody; relatives to this day have been unable to get information from Russian forces about their whereabouts. On June 21 Russian forces apprehended Rustam Razhepov, 35, and Daud Vitaev, 27, during the Alkhan-Kala operation; their corpses were found in an unmarked grave on June 22.
Andersen noted that a Human Rights Watch follow-up mission to the region in December discovered that the human rights situation had further deteriorated. "Over the last six months, civilians in Chechnya have 'disappeared' at a rate of more than one every week," she said. The Russian human rights group Memorial documented more than twenty "disappearances" in December 2001 alone.
Meanwhile, Andersen said, Chechnya has fallen off the map in the post-September 11 foreign policy climate. "Governments don't have the political will to make genuine accountability for crimes against civilians a benchmark for their Russia policy," said Andersen. "And this message hasn't been lost on the Kremlin. The carte blanche for violence against civilians is shattering whatever trust Chechens have had in Moscow, torpedoing peace efforts, and ultimately undermining Russia as a credible partner in the international war against terrorism."
The current climate of lawlessness in Chechnya, Andersen said, follows from a long-standing failure by Russian authorities to bring abusive forces to justice. Many Chechen civil servants who cooperate with Moscow threatened to quit after the summer sweep operations, prompting Moscow to acknowledge abuses and promise an investigation. The Human Rights Watch report says investigations, principally into property damage, in the Sernovodsk operation are ongoing. To date, no comprehensive investigation is under way with regard to the Alkhan-Kala sweep.
Responding to criticism about the winter sweep operations, Vladimir Kalamanov, President Putin's special representative on human rights in Chechnya said on January 31 that he was "pleased by the pace of investigations" into crimes by servicemen against civilians," and vowed that "no crime would be left unpunished."
"Without ongoing engagement by the international community, Russia will be able to continue issuing empty promises of justice," said Andersen.
Human Rights Watch urged the United Nations Commission on Human Rights, which will convene in March, to adopt a resolution condemning ongoing violations in Chechnya and called on Russia to allow U.N. special rapporteurs on torture and on extrajudicial executions to conduct investigations in Chechnya. Human Rights Watch also called on the Bush administration to raise the matter with the Russian government. President Bush is expected to visit Moscow in May.
From BBC World
March 2002
More bodies found in Chechen grave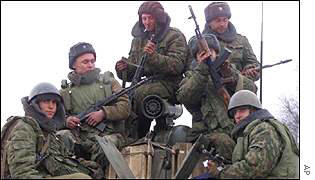 The number of bodies found in a mass grave that was unearthed near the Chechen capital of Grozny on Sunday has risen to 48, the Russian news agency Interfax reports.
The grave was found in wasteland, one kilometre from the Russian base at Khankala, on the outskirts of the capital Grozny.
Previous estimates had put the number of dead at 28.
"Practically all of the dead were men of fighting age," said Chechen prosecutor Vsevolod Chernov.
"Most of them had gunshot wounds and bandages".
"The majority of the dead were probably rebels," he added, saying that this was indicated by the internationally made camouflage and Turkish underwear that many were wearing.
Accused of abuses
The Russian authorities have long accused the Chechen separatists of obtaining supplies and recruits from Islamic organisations in countries such as Turkey.
However, eyewitness accounts quoted by the Russian human rights group Memorial claim that the bodies found in the grave were those of civilians, not separatist fighters.
Human rights organisations have repeatedly accused the Russian military of rights abuses in Chechnya.
The report on the mass grave came as the first trial of a soldier accused of carrying out atrocities in Chechnya was adjourned due to the ill health of the defendant.
Accidental killing
Colonel Yuri Budanov stands accused of kidnapping and murdering a young Chechen woman.
He denies murdering her, saying that he killed Elza Kungayeva by accident in the course of an "anti-terrorist operation" in her village.
He fell ill on Thursday with a heart problem and high blood pressure.
Since his condition has not improved, the North Caucasus Military District court has adjourned the trial in Rostov-on-Don, southern Russia until Monday.
The court had earlier rejected a request by the victim's family for the trial to be moved to Strasbourg or Chechnya because of pro-Budanov far-right protesters outside the court building.
The trial is seen as a key test of Russia's resolve to end human rights abuses by federal soldiers.
More bodies in Chechen mass grave

Reports from Moscow say that the number of bodies found in a mass grave outside the Chechen capital, Grozny, last week has risen to forty-eight.
The prosecutor of the pro-Russian administrator in Chechnya, Vsevolod Chernov, told the Interfax news agency that investigators had finished examining the site and had concluded that most of the bodies were likely to be of Chechen fighters.
The Chechen rebel leader, Aslan Maskhadov, says Chechen forces have discovered a number of mass graves of alleged victims of Russian atrocities.
The Chechenpress news agency said seventy bodies had been discovered in a pit near a Grozny cannery and another thirteen near an oil well in the village of Novyye Aldy.
From the newsroom of the BBC World Service